The telecommunications industry is very progressive and well-received all over the world, and the number of mobile and internet users is rapidly on the rise. In this fast-paced digital world, the way network providers connect with consumers is key, given the rising demand for refined consumer services and experiences. 
For a global telecommunications giant such as Bharti Airtel, one of the top 3 mobile providers globally, with a dominant presence in over 18 countries, the company's aspirations for Sri Lanka is no different.
In this interview, Airtel Lanka Chief Executive Officer and Managing Director, Ashish Chandra, shares his insights on how the company plans on differentiating itself and achieve its aspirations.
Q: How has the telecommunications market evolved, from the time of Airtel's entry into Sri Lanka?
A: One of the first challenges Airtel faced when entering the market in 2009, was making sure that every person had a mobile phone, which was followed by bringing mobile internet to all users.
Mobile penetration in Sri Lanka over the last decade has reached a phenomenal 140 percent, with a tele-density of 142 percent, marking us among the highest penetrated telecommunication companies in the south Asian region. With a population of 21 million, we have nearly 31 million mobile phones.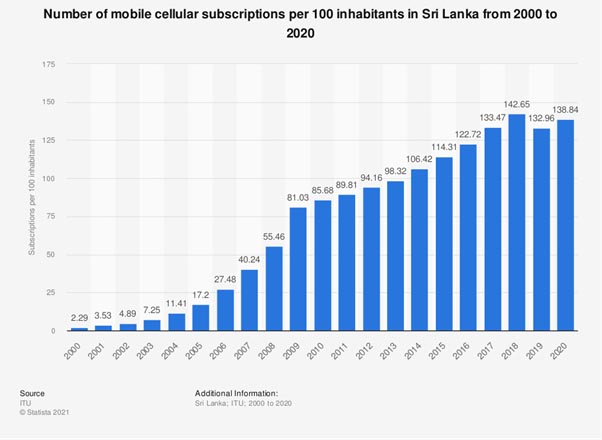 However, when we look at mobile internet penetration, this figure is still at about 50 percent, according to the Telecommunications Regulatory Commission of Sri Lanka (TRCSL). So only half the people have access to, or use mobile internet services, and this is a huge opportunity for Airtel to capitalise on.
As far as coverage goes, nearly 95 percent of Sri Lanka has been covered under one of the country's five network providers.
As for the remaining five percent, the TRCSL is working with the support of all of Sri Lanka's network providers to implement the 'Gamata Sanniwedanaya' initiative, which is working towards connecting the unconnected areas.
Q: Where is Airtel Lanka today?
A: In terms of reach, Airtel Lanka has covered almost the entire island. Population coverage across the island is nearing 90 percent, and as per the TRCSL's declared figures we have a market base of 3 million customers, serving 15% of the population.
With the onset of the pandemic, data consumption doubled. Fortunately, during this same period, the TRCSL allocated us additional spectrum. This enabled Airtel to launch a world-class 4G network which is also 5G-ready.
Throughout, our strategy has been focused on two crucial areas: delivering a world-class network experience, and ensuring that our service was always giving maximum value and affordability to our users.  
A good network is the bread and butter for any experience. That's why over the last year, Airtel Lanka has invested in rolling out nearly 2,200 4G sites across the island, which are also 5G-enabled, increasing our capacity by four times. So the moment 5G services are enabled in Sri Lanka and licenses are issued, Airtel will be absolutely ready to launch 5G.
Our 4G penetration is currently about 50 percent, and we are focusing on boarding the remaining 50 percent to utilise its 4G broadband services.
Next is the service experience, which is further broken down into simplicity and product landscape, which is not prevalent in the country yet, as most providers still offer a plethora of different internet access packages to use different apps.
Q: In this context, what has Airtel Lanka done to streamline and enhance customer experience?
A: Airtel's endeavour in this aspect is to simplify product offerings and making it affordable to all. Our recently launched 4G Freedom Packs eliminates the need for multiple recharges and offers ample data, voice and SMS's to fit a user's requirement. So while this single prepaid recharge gets customers out of this reload trap of having to do multiple recharges, it also offers up to five times more value for money, when compared to other products in the market. 
We also introduced the novel data rollover mechanism for postpaid users to help consumers reduce wastage by carrying over any remaining data from the current billing month to the next, so that the data is not wasted.
In essence, Airtel's innovations focus on consumer needs, and we differentiate ourselves on the basis of the experience provided to consumers. We are confident that given the unparalleled experience that we provide, customers will always choose Airtel.